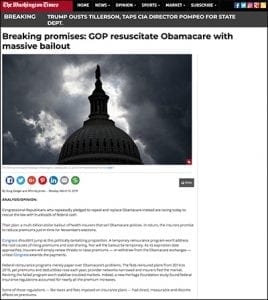 Congressional Republicans who repeatedly pledged to repeal and replace Obamacare instead are racing today to rescue the law with truckloads of federal cash.
Their plan: a multi-billion-dollar bailout of health insurers that sell Obamacare policies. In return, the insurers promise to reduce premiums just in time for November's elections.
Congress shouldn't jump at this politically tantalizing proposition. A temporary reinsurance program won't address the root causes of rising premiums and cost-sharing. Nor will the bailout be temporary. As its expiration date approaches, insurers will simply renew threats to raise premiums — or withdraw from the Obamacare exchanges — unless Congress extends the payments.
Federal reinsurance programs merely paper over Obamacare's problems. The feds reinsured plans from 2014 to 2016, yet premiums and deductibles rose each year; provider networks narrowed and insurers fled the market. Reviving the failed program won't stabilize troubled markets. Indeed, a new Heritage Foundation study found federal insurance regulations accounted for nearly all the premium increases.
Some of those regulations — like taxes and fees imposed on insurance plans — had direct, measurable and discrete effects on premiums.
Others exerted an indirect effect. Federal limitations on varying premiums by age, for example, have made policies unattractive to young enrollees. An insurance pool that skews older needs higher premiums, irrespective of federal subsidies and bailout payments.
Also driving up prices are politically popular regulations that ban medical underwriting and require coverage of pre-existing medical conditions.
The premium effect of this complex of regulations was magnified by other aspects of the law, which moved people from high-risk pools into the exchanges and incentivized employers to dump early retirees into the individual market.
While Obamacare's web of regulations, subsidies and penalties has increased coverage among low-income households and those with chronic illness, it has made coverage unaffordable for many who once could afford it. The net result: the number of people with individual health coverage began to shrink in 2016. Preliminary data indicate this troubling trend accelerated last year.
Reversing this trend will require substantial changes to Obamacare — starting with premium relief to those who don't qualify for subsidies. To do that, Congress must untangle the regulatory mess that is pricing health insurance beyond the reach of middle-income families.
Last year, Republican Sens. Lindsey Graham of South Carolina and Bill Cassidy of Louisiana offered a bill that would do just that. Abandoning Obamacare's Washington-centric approach, their proposal would return resources and policy flexibility to states and task them with rebuilding broken markets.
Graham-Cassidy would empower states to design and administer programs that reduce costs and increase consumer choice, while protecting the poor and those with chronic medical conditions.
That approach punctures Obamacare's core conceit: What works in one state will work in every state.
The reality: Markets vary from state to state and within states. The federal government can't calibrate policy finely enough to adjust for these differences.
Washington should relax its death-grip on health insurance markets and give states space to innovate. But that is not its inclination.
Traumatized by last year's face-plant with Obamacare repeal, GOP lawmakers aren't eager to again take up the challenge of comprehensive reform. They're grasping for an expedient. A "do something" bailout bill is much more tempting — even though it fails to address the causes of soaring premiums.
Voters may not be so easily seduced. A recent poll found 61 percent of Americans oppose giving insurers more taxpayer money to reduce premiums temporarily. People want premium relief, but they want it done right. They are understandably suspicious of quick fixes that let fester the law's deepest flaws.
Congressional Republicans may have moved on from health care reform, but millions of Americans ill served by Obamacare have not. They want real change centered on patients and consumers, not special interest bailouts. Graham-Cassidy offers a bold and workable framework for doing that. Congress should not shrink back from the hard path of reform.
---