President Biden's proposals to put Medicare on a sustainable path are being panned by experts who understand the program and its plight, from Biden's dishonest bookkeeping gimmicks to big tax increases.
Neither of which will address the fundamental causes of Medicare's looming insolvency.
"None other than President Barack Obama said in 2011 that 'if you look at the numbers, then Medicare in particular will run out of money and we will not be able to sustain that program no matter how much taxes go up,'" Chris Jacobs of Juniper Research Group recalls.
The list of tax increases in the Biden budget is somewhat horrifying, including a corporate tax rate higher than China's and an unconstitutional wealth tax. Americans for Tax Reform lists all of them, including a 32% increase in Medicare taxes. ATR also warns about Biden's expanded price controls that will crush medical research into new cures.
Brian Riedl reports in the New York Post that Biden's $5 trillion tax blowout still leaves soaring red ink.
"President Biden's budget request is meant to drive headlines showcasing a claimed $3 trillion in deficit reduction over the next decade. In reality, his budget proposes the largest tax increase in modern history, plows much of the new savings into more new spending and leaves Social Security [and Medicare] on its path to insolvency," he writes.
In Biden's 2023 Medicare Proposal Doubles Down on Failed Policies of Past, Bob Moffit of Heritage calls the president's Medicare proposals "a tiresome combination of misrepresentations and focus-grouped scare tactics, plus old-fashioned tax increases and Medicare payment cuts." Not good.
Also from Moffit, "Modernizing Medicare: Harnessing the Power of Consumer Choice and Market Competition," a peer-reviewed book offering a positive agenda for Medicare modernization. (Soon to be published by Johns Hopkins University Press.)
Brian Miller of AEI and former Medicare-Medicaid administrator Gail Wilensky offer a range of real reforms in an important Health Affairs article, Moving To A Market-Driven Medicare Program. These are serious, not gimmicky, reform proposals, starting with building on competition and consumer choice in the popular Medicare Advantage program.
Other analyses of note:
Turning the Tide on Red Ink: Commonsense Policies to Make Federal Health Programs More Sustainable.
Brian Blase and Joe Albanese of Paragon Health Institute offer a dozen changes to health policy that could put federal health spending on a sustainable trajectory over the next decade, instead of President Biden's budget offerings that would grow government and fail to address core problems with federal health programs.
Modernize Medicare Without Cutting Benefits or Raising Taxes—
In a Wall Street Journal op-ed, former Governor Jindal and Speaker Gingrich explain policy steps to crack down on fraud, practice preventive medicine, establish site-neutral payment policies, and other lessons from earlier bipartisan agreements that are needed now more than ever. "It's possible to modernize Medicare without cutting benefits for seniors or raising taxes," they write.
We agree and explain in a new paper that Medicare's payment policies must be updated to pay for treatments that help people get and stay well instead of focusing on sickness care.
---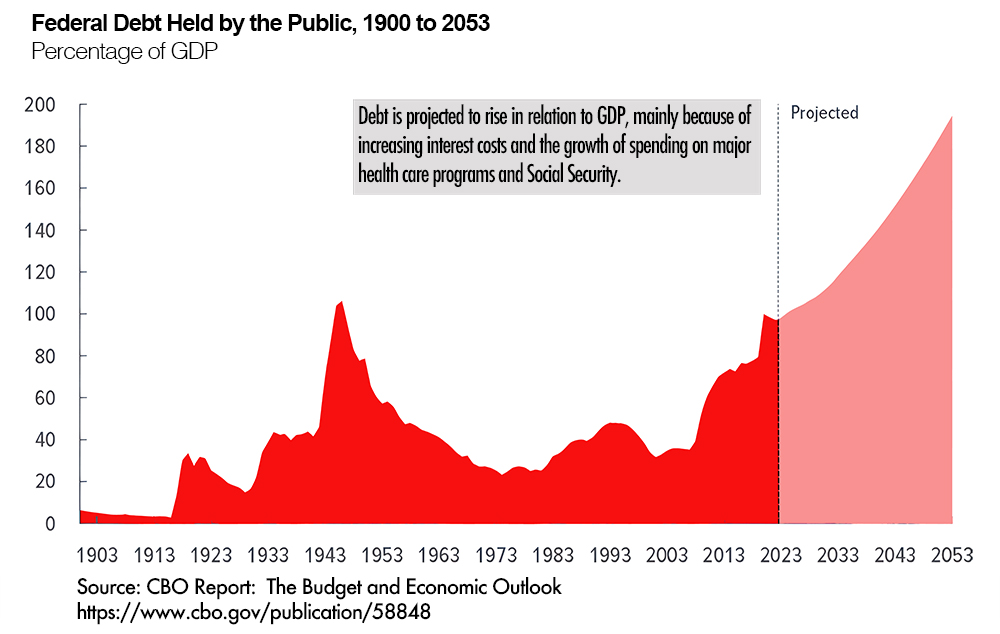 The Budget and Economic Outlook: 2023 to 2033
The Congressional Budget Office projects the federal debt will rise dramatically in relation to the gross domestic product, primarily due to rising interest payments and the growth of spending on major health care programs and Social Security (as our feature image above depicts).
Congressional leaders panned the health provisions in Biden's budget. Energy and Commerce and Ways and Means committee leaders say "Gimmick won't save Medicare but will lead to fewer cures." This is not good for Biden since his policies would have to be passed through these important House committees to become law.
Sally Pipes of the Pacific Research Institute explains Why Medicare as We Know It Can't Last
Chris Jacobs of Juniper Research Group observes, "It seems highly disingenuous for Biden, having raided Medicare last year to suit his own political objectives, now to claim he will use the program's remnants to extend its solvency."
To be continued…