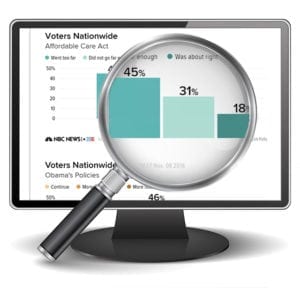 Although it came late as a campaign issue, ObamaCare was on the ballot again on Tuesday.  And it lost big.
According to exit polls, 45% said they thought the law had gone too far.  Only 18% said it was about right. That follows years of public opinion polls consistently showing approval of the law under water.
Voters have opposed the law since before it passed.  Former House Speaker Nancy Pelosi and other determined liberals ignored the hundreds of thousands of people who marched on the Washington Mall on September 12, 2009, to protest their agenda. After that, deep-blue Massachusetts elected Republican Scott Brown to the Senate in early 2010 in an effort to build a firewall against final passage of the law.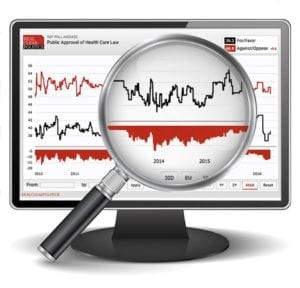 That failed when the White House devised a tortured and narrow path to final passage in March, but Democrats paid a high price when 63 House Democrats who voted for the law lost their seats in the 2010 mid-term elections.
In 2012, Mitt Romney was an imperfect opponent of the health overhaul law, having shepherded passage of a version of it when he was governor of Massachusetts.  In 2015, after Republicans won control of the Senate, both houses of Congress did pass a repeal bill, only to see it vetoed by President Obama.
In 2016, voters had another, maybe last, chance, but for much of the campaign, ObamaCare took a back seat to immigration, trade, veterans, jobs, and an endless well of scandals.  But then former President Clinton criticized the law ("…the craziest thing!"), and Hillary Clinton and even President Obama acknowledged changes were needed to ObamaCare.
They were defensive as announcements of stunning premium increases blanketed the news.  The pain of ObamaCare was deep and personal and hit hardest those middle-income voters who are struggling in a stagnant economy.  Those voters helped produce Tuesday's stunning electoral result.
While President-elect Trump had been calling for repeal of ObamaCare throughout the campaign, he homed in with a speech in Valley Forge, PA, on November 1, joined by Vice President-elect Mike Pence.
They connected with voter anger about the law, saying that health costs are overwhelming families' ability to pay their bills, and even their mortgages. Mr. Trump said millennials and young people would face an "unfair" burden, and "will be totally crushed by these massive health care costs before they even get started on their journey through life."
All of which tee up the next steps for a Republican Congress and Trump White House to deliver on their campaign promises.  After years of broken promises from ObamaCare advocates, voters will have little patience if Republicans fail them.
So what can be done?
House Speaker Paul Ryan orchestrated a major effort earlier this year calling on key committee chairmen to develop a unified replace strategy—the Better Way blueprint he announced in June.  Staffers have been working feverishly to write the legislative language while members have been away campaigning this summer and fall.
Mr. Ryan also applauded Mr. Trump's call for a special session of Congress to repeal and replace ObamaCare.  Since Congress will be in session more than two weeks before Mr. Trump is sworn in, it's unclear that a special session is needed, but it does signal a sense of urgency and priority.
Senate Majority Leader Mitch McConnell said he would move quickly to repeal ObamaCare.  "It's pretty high on our agenda as you know," he said after the election. "I would be shocked if we didn't move forward and keep our commitment to the American people."
(The likely path to repeal is the budget reconciliation process that Congress used last year in a dry-run. That means they will only need a simple majority in the Senate and not the usual 60 votes to send a bill repealing ObamaCare's key tax and spending provisions to the Oval Office for Mr. Trump's signature.  But it involves many steps and will not be a speedy process.  Welcome to Washington.)
Whatever the frustrations and delays, Mr. Trump must deliver on his promise to repeal and replace.  Both Speaker Ryan and Leader McConnell are on board and are ready to take action.
Two veteran senators attempting a comeback—former Sens. Russ Feingold in Wisconsin and Evan Bayh in Indiana—lost their bids after a barrage of campaign ads against them reminded voters that each had cast decisive votes to pass ObamaCare in 2010.  These two races were decisive in helping Republicans hold the Senate.
Mr. Trump must take a positive stance on replacing this deeply flawed law to protect millions of Americans who rely on ObamaCare coverage. He must reassure them they will not lose their current coverage and that the Congress will build a bridge to new and better options.  The Republicans can't be responsible for the next wave of canceled policies that would leave millions without health insurance.
Nonetheless, replacing ObamaCare with something better will be a big fight.  The liberal advocacy group Families USA hosted a nationwide conference call the day after the election involving hundreds of advocacy groups to develop an "ObamaCare defense strategy." Families USA executive director Ron Pollack said, "We're going to lead this fight," vowing "total war" to defend the law that helped millions of uninsured Americans get covered (many of whom lost their previous policies only to be shoved into ACA exchanges).
Mr. Trump could designate Mr. Pence as his emissary to coordinate efforts within the departments involved with ObamaCare—HHS, Treasury, and Labor—to work with the key committees of jurisdiction in the House and Senate to recommend swift action to undo the damage of ObamaCare and set priorities for corrective actions.
ObamaCare is falling of its own weight.  Premiums—and deductibles—are skyrocketing, doctor networks are narrowing, and so many insurers have bailed out of the exchanges that one in five Americans live in counties where they can buy coverage from only one insurance company.
The only thing that is propping up ObamaCare's rickety infrastructure is billions in unlawful corporate payments to insurers that have agreed to keep selling in the exchanges.  Withdrawing these unlawful subsidies would precipitate the collapse of the exchanges, the practical equivalent of repeal.
The new administration should take that step, but also should insist that Congress enact legislation to provide transitional relief as a replacement plan is implemented.  An early priority could be asking Congress to pass legislation to make Health Savings Accounts more widely available.
He also must yank any ObamaCare regulations that have not yet been finalized and issue his own regulations to block the illegal regulations President Obama has promulgated.
On Day One, Mr. Trump should put a stop to unlawful corporate subsidies by announcing that his administration will follow the law. That means:
1. No more cost-sharing reduction payments.  A federal district court judge has ruled in House v. Burwell that the administration cannot spend this money because Congress has not appropriated it.  Mr. Trump should say that he is directing the Attorney General to drop the government's appeal of this ruling and direct his HHS Secretary to cease making those payments.
2. Deposit 2016 reinsurance collections in the general fund of the Treasury.  On September 30, the Comptroller General of the U.S. ruled that $3.5 billion in reinsurance payments that CMS has made to insurers are unlawful.  CMS has announced that it will ignore the Comptroller General's ruling which held that this money belonged to taxpayers, not insurers, and must be remitted to Treasury.  Trump should direct his HHS Secretary to comply with that ruling.
3. Direct the Treasury Secretary not to make risk corridor payments from the Judgment Fund.  In moving for dismissal in two of the risk corridor lawsuits, even President Obama's Justice Department argued that the ObamaCare statute does not entitle insurers to taxpayer money for risk corridor payments.
CMS is nevertheless looking to settle the cases with insurers, planning to pay the money out of the Judgment Fund in defiance of a law Congress passed barring spending on risk corridor payments.  The American Law Division of CRS, citing GAO and DOJ precedent, has said that these payments cannot legally be made because the Judgment Fund cannot be used to circumvent a congressional appropriation prohibition.
Collectively these three actions—all of which consist of following the law and none of which require legislation—would defund ObamaCare by $10 to $20 billion.  This would create an immediate crisis in exchange-based plans, forcing Congress, the industry, and even opposing groups to come to the negotiating table to work out a way forward on health care reform.
The voters have spoken: ObamaCare is a failure.  The new President and Congress should act immediately to replace it with something better.