House Speaker Kevin McCarthy predicted the dissidents in his caucus would try to oust him after he passed, with big bi-partisan support, a spending deal, which no one thought had a prayer, to keep the government open.
He worked under the threat that any one Republican could bring a motion to remove him on a whim, which Florida Rep. Matt Gaetz gleefully did on Tuesday, along with seven other Republicans and all Democrats present.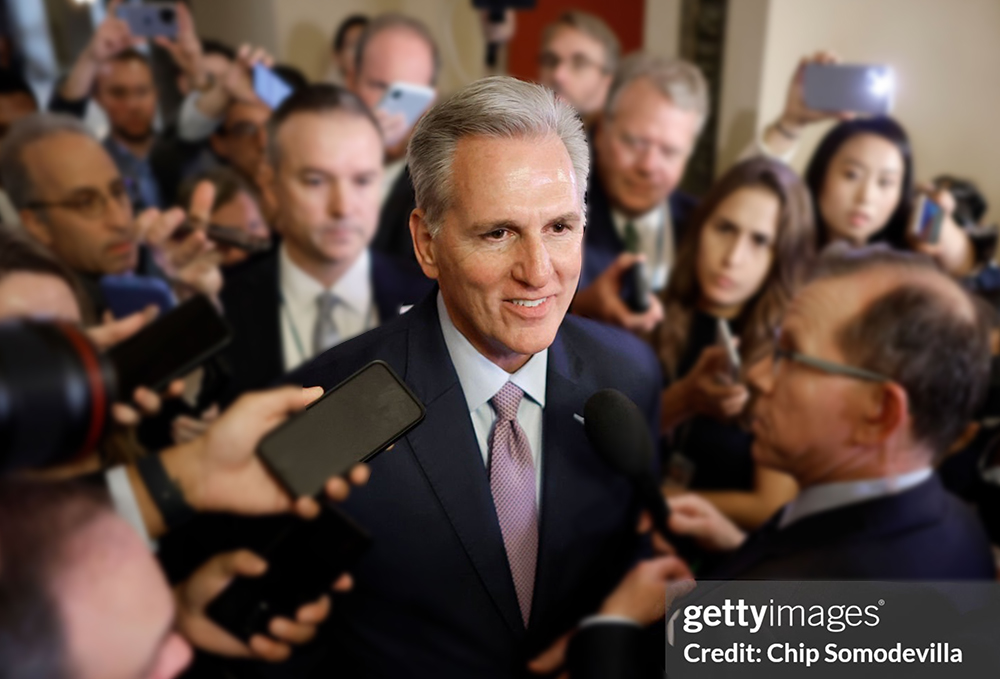 "I'm at peace with it," McCarthy said afterward, adding he never would regret putting the country first to avoid a government shutdown.
"My fear is the institution fell today because you can't do the job if eight people—you have 94%, or 96% of your entire conference—but eight people can partner with the whole other side. How do you govern?," McCarthy said during his farewell news conference Tuesday night.
CNN was the only major cable station that ran McCarthy's 45-minute statement and news conference in full. That's too bad. Because if the American people could have heard the outgoing Speaker, they would have seen the statesman he is, attuned to country's needs and with a global and historical perspective that we want in our leaders. He talked about the dangerous world we live in today that has far too many of the signals of the 1930s, when the world was in economic turmoil and still reeling from World War I and turned its back on Hitler's aggressions and rise to power.
McCarthy is a leader but not the policy wonk that former Speaker Paul Ryan was. So then-Minority Leader McCarthy appointed Task Forces in 2020 to tackle specific issues, including health care, that he committed to advancing if Republicans took control of the House of Representatives in 2022.
Each task force had up to 18 members drawn from various committees to work together and overcome the obstacles involving committee jurisdiction that often impede progress. It was a refreshing process that set out an agenda for health reform and engaged members in the details of policymaking, encouraging them to take ownership of targeted policy initiatives.
Rep. Brett Guthrie of Kentucky co-chaired the Healthy Futures Task Force and moved on to become chairman of the powerful House Energy and Commerce Health Subcommittee. Two major—and many smaller—health care bills have emerged: The PATIENT bill already has passed the House, and the Lower Cost, More Transparency Act is awaiting floor action.
Majority Leader Steve Scalise (R-La.) and Rep. Jim Jordan (R-Ohio) already have announced they will run for Speaker, and both are good leaders. Neither is a clear favorite in the divided Republican caucus. We hope the winner keeps this collaborative process alive.
Wednesday's Wall Street Journal editorial is right on target, writing of the eight Republicans: "We trust they're happy. They now have the chaos they wanted, though it isn't clear what else they hope to achieve. Their clever plan seems to be to cut off their own heads.
"Mr. McCarthy lost his job, but he rose in our esteem in recent days by the way he has handled this threatened coup. He put the country first on Saturday in refusing to let the plotters shut down the government for no good purpose.
"Then on Tuesday he refused to ask Democrats for a power-sharing deal in return for votes to rescue his Speakership. He put his party above his job, and his reward is that he is the first Speaker ousted in history. The vote was 216-210," the Journal wrote. "The crazy left and right are cheering, but no one else is."
But at least we have a backup:  After 9/11, the House created the position of Speaker Pro-Tempore to be selected by the Speaker but whose identity was held close by the House clerk. McCarthy had selected Rep. Patrick, give-me-liberty-or-give-me-death, (Mc)Henry, R-NC, for the post.  He was the one who loudly banged the gavel to close Tuesday's session after McCarthy was ousted.
The public's confidence that Republicans can govern has taken another blow. But they will get their balance back, we will get a new Speaker, and everyone will have high hopes for progress once again.