Republicans too often take an all-or-nothing approach to health reform legislation. And they too often wind up with the latter.
Democrats, on the other hand, take a win whenever and wherever they can get it. And they have shown over more than half a century their success with that incremental approach by ever expanding the role of government in our health sector.
So now both houses of Congress have passed legislation basically written by Republicans that will increase the debt limit for the United States and avert default. Some conservatives balked, but it contains meaningful policy changes, some of which apply to health care, and makes progress toward containing spending and reining in government.
The bill would, for example, eliminate the funding to hire the army of new IRS agents next year. That buys time for the voters to have their say about this during the 2024 elections. It also stipulates there will be a 1% cut in federal spending if Congress fails to approve through regular order the individual appropriation bills that relevant committees are writing.
Michael Strain explains in National Review that Speaker Kevin McCarthy secured "substantial policy victories," including "$1.5 trillion in deficit reduction, tougher work requirements on certain safety-net programs, clawing back unspent Covid-relief money, measures to speed up environmental reviews for major projects, and no tax increases."
WASHINGTON, DC – MAY 31: Speaker of the House Kevin McCarthy (R-CA) speaks during a news conference after the House passed H.R. 3746 – Fiscal Responsibility Act of 2023 at the U.S. Capitol May 31, 2023 in Washington, DC. The final vote tally was 314-117. The Fiscal Responsibility Act is the legislation negotiated between the White House and House Republicans to raise the debt ceiling until 2025 and avoid a federal default. (Photo by Drew Angerer/Getty Images)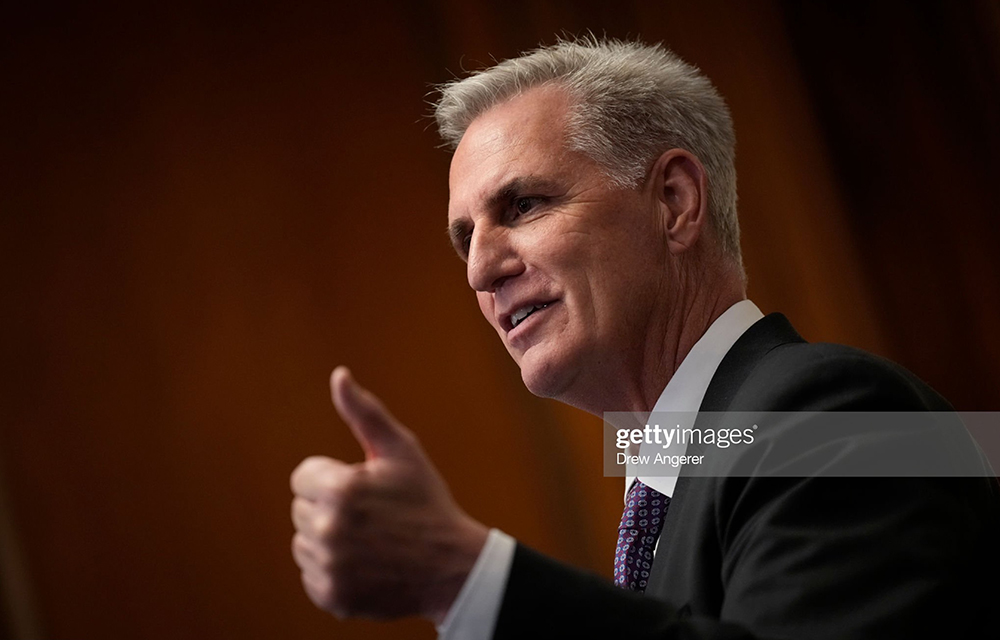 The bill raises the nation's debt limit, now $31.4 trillion, so the government can continue to borrow to pay already incurred U.S. debts. Houston, we have a problem! Clearly this bill is not the solution, but it is an important start.
Conservatives should take the win. Good grief, House Republicans have a meager four-seat majority in one house of Congress, but they've made significant progress with this paltry margin.
The Wall Street Journal warned that if the McCarthy debt deal were to have failed, "the next bill won't move more to the right. It will move left, as Democrats demand more in return for their votes." President Biden is expected to sign the bill "as soon as possible."
Also of note, it's just a 99-page bill and several members of Congress tweeted pictures of themselves at their desk actually reading it. That is a huge difference from the thousands of pages of legislation pasted together for end-of-the-year "omnibus" spending blowouts that I venture to say no single member could read or comprehend in the few days, or sometimes hours, allocated before they have to vote.
********
Milliman reports the average family of four with employer-sponsored health insurance will pay—directly and indirectly—$31,065 in health costs in 2023. Families see their out of pocket costs for medical visits and treatments and their contributions to their health insurance premiums, but most of the money is subtracted from their paychecks before they ever see it to cover the rest of their insurance premiums. At what point do they cry out, "I'm as mad as hell and I'm not going to take this anymore!"? (Network, 1976)
We must continue the fight. The House Energy and Commerce Committee has sent to the floor seven health care bills, many of which have bipartisan support, that would make important, if incremental, progress.
Chairwoman Cathy McMorris Rodgers said, "What we are doing here today won't solve every problem in our health care system. I have said this is just a first step towards addressing the problems we face. But we can be proud of the meaningful, bipartisan policies included in this amendment that will lower costs and improve transparency for patients." Exactly right.
The House Committee on Education and the Workforce has its own slate of bills ready to mark up and send to the floor, including Association Health Plans, protecting choices for companies that self-insure, and expanding access to telehealth services.
And Rep. Pete Sessions is taking the lead on visionary health reform legislation, working closely with our policy colleagues, including Dr. John Goodman and Dean Clancy. Dean writes in the Washington Examiner that "Americans feel helpless when it comes to healthcare, but help is on the way."
He writes that 40% of voters say the high and rising cost of health care represents a "crisis." A majority (56%) say they feel "helpless" when dealing with the U.S. health care system — that the system is in charge, not them.
"The best vehicle for achieving a Personal Option is the Health Care Fairness for All Act, a brilliant new bill authored by Rep. Pete Sessions (R-TX)," Clancy writes. "It does three significant things:
It reforms federal health tax subsidies to fund patients instead of insurance companies.
It lets every American have a tax-advantaged health savings account (HSA).
It removes needless barriers between patients and the medical professionals they trust.
"In short, it puts patients in charge, so we can reduce prices and improve quality without, as in Britain, limiting patients' access to the latest and best treatments."
Progress.