So here's a study in contrasts based upon two news reports this week:
Sending B.C. cancer patients to Bellingham for treatment 'a sad state of reality,' critics say
[Canadian] Health Minister Adrian Dix announced Monday that eligible breast and prostate cancer patients will be sent to one of two clinics in Bellingham, Washington, for radiation treatment, starting May 29.

The unprecedented move to send thousands of B.C. patients to the U.S. over the next two years is an attempt to address the backlog in B.C. which has one of the longest waits for radiation treatment in Canada.
…While breast cancer and prostate cancer patients will receive quicker radiation treatment in the U.S., critics say the move is an indictment of B.C.'s flagging health system…
Sanders reintroduces single-payer Medicare bill with record [number of] sponsors
Sen. Bernie Sanders, along with Rep. Pramila Jayapal and Rep. Debbie Dingell, introduced the Medicare for All Act of 2023 on May 17 to create a federally administered single-payer healthcare system.
The legislation is co-sponsored by 14 other senators. In the House, the proposal has 110 more co-sponsors, a record high for support of the legislation.

…By the fourth year [after enactment], every U.S. citizen would be eligible for comprehensive benefits and would receive a Medicare card to access care.
It would be illegal for commercial payers and employers to sell or offer policies that duplicate benefits provided under the single-payer system.
So here's the question: Where would American patients go for treatment if Sanders' Medicare for All regime were implemented here?

Here is what the Congressional Budget Office expects:
Establishing such a system would be a "major undertaking" that would be "complicated, challenging, and potentially disruptive," and the "changes could significantly affect the overall U.S. economy."
CBO says that "Setting payment rates equal to Medicare [fee-for-service] rates under a single-payer system would reduce the average payment rates most providers receive—often substantially."
This would likely "reduce the amount of care supplied and could also reduce the quality of care." The number of hospitals and other health care facilities might also decline as a result of closures, and there might be less investment in new and existing facilities.
According to CBO, the low payment rates in a single-payer system "could lead to a shortage of providers, longer wait times, and changes in the quality of care, especially if patient demand increased substantially."
I catalogued many of the reasons why Medicare for All is a terrible idea for America in my 29-page testimony before Sen. Sanders' Budget Committee hearing last year.  We can learn a lot about what not to do from Canada's Fraser Institute which catalogues the long waits for care across the country. Why is this idea even still on the table here, especially after our Covid fiasco?  
*********
You may be interested in knowing that we were named one of the Washingtonian's 500 most influential people for the third year in a row, with a photograph taken at a DC reception Wednesday evening as our souvenir.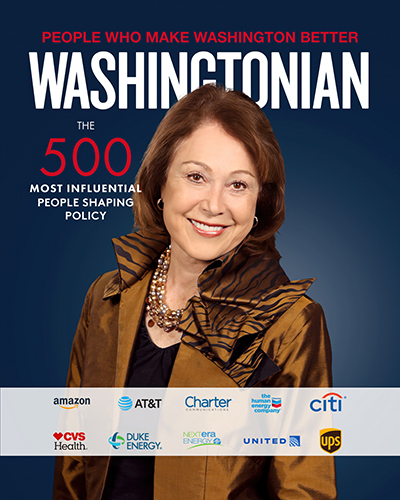 I am humbled to be in the company of outstanding honorees in the Healthcare category, including fellow Consensus Group participants and friends Brian Blase, Stuart Butler, Michael Cannon, Marjorie Dannenfelser, Chip Kahn, Stacey Hughes, Chris Jennings, Jay Khosla, Monica Popp, Lori Reilly, Nina Schaefer (for the first time), and others. Many more of you should be on the list!
Special thanks to Tevi Troy, presidential historian extraordinaire, for recommending that the Washingtonian consider me for the list.  Tevi's name should be at the top of its list, but they would need an ultra-special category for him with his many accomplishments!