If they said it once, they said it 200 at times.
At a recent hearing before the House Energy and Commerce Health subcommittee (live-streamed here), the majority members repeatedly called the new Short Term Limited Duration plan option "Junk Plans."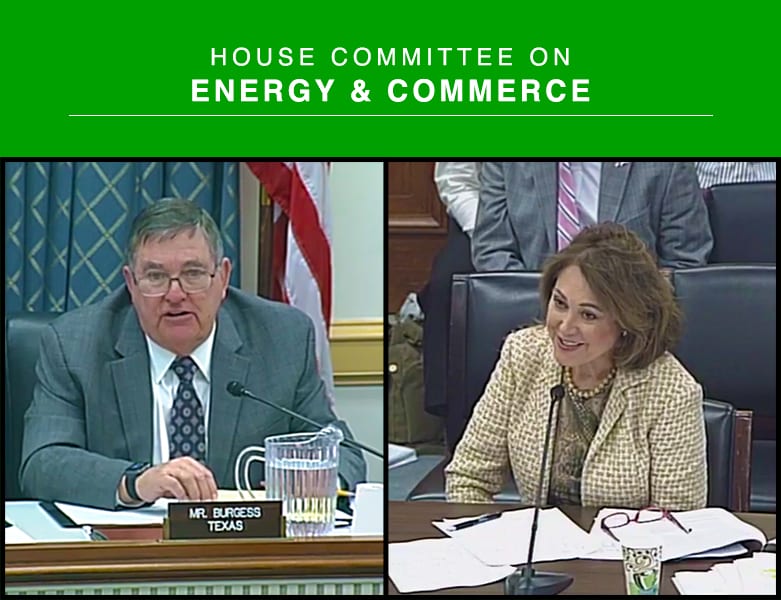 In my testimony, I talked about the benefits these plans offer to people who are between jobs, young people in the gig economy, early retirees who don't yet qualify for Medicare, entrepreneurs starting new businesses, and others who need bridge coverage.
But in question after question, Democrats berated the plans because they don't provide the expensive "comprehensive" benefits that ACA-compliant plans must include.
One of the reasons that at least three million people have dropped out of the individual health insurance market is because they cannot afford these plans and are relieved to have other options.
I told the committee about Virginia State Sen. Bryce Reeves who reported that he received a message from a constituent in Fredericksburg who had just received the quote for a family health insurance policy: $4,000 a month! "That's more than my mortgage. What am I supposed to do?" he asked.
The Trump administration has been working hard to provide people like Sen. Reeves' constituent with other options, including the bridge plans the committee wants to again limit to only three months—as the Obama administration did in 2016.
The Trump administration last year finalized a rule to expand access to short-term, limited-duration (STLD) plans to give Americans access to health insurance coverage that better fits their needs. Under the new rule, these plans can be offered for up to 364 days and renewed for up to 36 months, subject to state regulation.

Premiums typically are less than half those of ACA plans.
The Pennsylvania commissioner of insurance, Jessica Altman, recounted in her testimony, a woman who fell and hit her head at work. She had a bridge plan, but the plan covered only $1,300 of the worker's $16,000 bill.
There are bad actors in any industry, and consumers need to be informed about what a plan actually covers. But it is the responsibility of state insurance departments to oversee insurance companies selling policies to their residents to enforce consumer protections, which she said she is doing. (But one wonders why this workplace injury wasn't covered by Workers Compensation…)
In contrast, there are also examples of people who have been helped by these plans.
I received a note Thursday from a broker with a company that sells the plans and had watched the webcast of the hearing: "As an example of a claims paid, we recently had a man in Texas—single dad, two teenage sons. His income had gone up, and he was no longer subsidy eligible. He bought a plan from us in August. He didn't want his kids to be uninsured. The oldest son was diagnosed with Leukemia in September. We paid $170,000 in claims. It is not junk insurance; it is niche insurance."
I explained in my testimony that the Trump administration's short-term limited duration policy rule extends consumer protections. Under the Obama administration's previous 2016 rule, people could lose their coverage after three months if they acquired a medical condition during the three-month period. By extending the contract period, people can be protected from a period of uninsurance until the next ACA open enrollment period.
An estimated 1.7 million people who would otherwise be uninsured are expected to enroll in STLD plans. Several states limit their residents' access to STLD plans, but in so doing, they deny them what may be their only realistic option for coverage.
The plans are not required to cover the comprehensive list of benefits required by the ACA, and consumers education is important in understanding how they differ from ACA-compliant plans. Bit that is a job for states, not the federal government.

Council of Economic Advisers: A new White House report on "Deregulating Health Insurance Markets: Value to Market Participants" provides important data showing the positive impact of this consumer-friendly health policy change. The report estimates that STLDs would produce a marginal social benefit of $80 billion over ten years, even taking into account concerns that they might raise premiums for some people with ACA-compliant coverage.
While Democrats repeatedly called STLD plans "junk" insurance that sabotages the ACA, there is solid evidence that consumers will benefit, both in expanded coverage and lower costs. The Trump administration believes this policy option, together with other health reforms (association health plans and the repeal of the individual mandate penalty tax), will generate benefits to Americans worth an estimated $450 billion over the next 10 years.
The Energy and Commerce hearing considered several other pieces of legislation Democrats plan to bring to the House floor for a vote this session.
The Committee also wants to rescind the Trump administration's revised guidance giving states more options in allocating some ACA funds.
"What I find most troubling about today's hearing is that our Democratic colleagues are questioning the flexibility that they put in their own law. Section 1332 of the Affordable Care Act provided states with the opportunity to apply for State Innovation Waivers. These waivers allow states to come up with inventive ways to insure their populations while safeguarding their access to quality insurance," Ranking Republican Michael Burgess told the subcommittee in his opening statement.
Doug Badger and Ed Haislmaier have written about the positive impact for consumers of giving states flexibility through Section 1332 waivers.
And Democrats also want to spend $100 million a year to boost enrollment in ACA plans, including generously funding Navigators. Yet an analysis by the Centers for Medicare and Medicaid Services (CMS) showed the high cost of the Navigator program relative to signups.
I reported on the CMS report that showed during the 2016 open enrollment period, Navigators received more than $62 million in federal grants while enrolling 81,426 individuals—or fewer than one percent of all enrollees. Seventeen of these Navigators enrolled fewer than 100 people each at an average cost of $5,000 per each enrollee—just to get them enrolled.

The top 10 most-costly Navigators spent a total of $2.77 million to enroll just 314 people. One grantee received $200,000 and enrolled ONE person, enough to have covered more than 30 people for the whole year.
Seventy-eight percent of Navigators failed to achieve their enrollment goals. Since then, CMS set up a system in which Navigator grantees receive funding based on their ability to meet their enrollment goals during the previous year.
Enrollment began to decline before any changes in Navigator grants by the Trump administration. "The subsidized and unsubsidized enrollment report shows enrollment began to decline in some states between 2015 and 2016, and in particular among the unsubsidized portion of the market. Over that period, 23 states experienced a decline in unsubsidized enrollment, with 10 states experiencing double-digit declines," according to a CMS study.
CMS believes that independent agents and brokers can be more cost-efficient in assisting people in obtaining exchange coverage.
"CMS increased efforts to leverage the capabilities of the private sector by expanding the role of health insurance agents and brokers who supported 3,660,668 health plan enrollments, 42 percent of plan-year 2018 open enrollments on Federal platform Exchanges. In contrast, Navigators enrolled less than 1 percent of total enrollees," the report found.
Because many people on the exchanges are automatically reenrolled, there is less need for assistance than when the program was new. The "effectuated enrollment" report shows that enrollment through the Exchanges remained steady for subsidized people who were automatically re-enrolled in plan-year 2018 and paid their first month's premium. In February 2018, 10.6 million individuals had effectuated their coverage through the Exchanges.
California spent heavily on marketing to increase enrollment in its state-based exchange last fall, yet it experienced a 23.8% drop in new enrollees over 2018. Covered California is encouraging the state to establish its own individual mandate. But it is hard to boost enrollment through added spending on marketing or using the mandate club when the main reason people are not signing up is the high cost of premiums and sky-high deductibles.
Enrollment in the individual health insurance markets is falling. A net of three million people dropped coverage in the individual health insurance market between 2015 and 2018. According to a study published by the Kaiser Family on "Changes in Enrollment in the Individual Health Insurance Market," there were 17.4 million policyholders in the individual market in 2015, dropping to 14.4 million by the first quarter of 2018.

The committee's effort to undo the work that the Trump administration is doing to give people more choices of more affordable health coverage will be harmful, not helpful, to consumers.
"Unsustainably high premiums and issues related to silver loading are increasingly becoming the reality for folks that rely upon individual market insurance, yet the bills before us today will not make a marked increase in the availability of reasonably priced plans," Dr. Burgess said.
Agreed.
---