Thirty-nine health policy experts and representatives of a broad cross-section of organizations joined in signing a comment letter to the Centers for Medicare and Medicaid Services regarding its proposed rule on Short-Term, Limited-Duration Insurance.
They argue that the Obama administration exerted "regulatory overreach" in limiting the sale of short-term policies to 90 days and prohibiting their renewal "in an effort to limit the sale of these policies, constrain consumer choice, and impose federal regulations on a product whose regulation the statute reserves to the states."
"We hope this will convince CMS to amend its proposed rule to allow, among other things, renewability of short-term policies," said Grace-Marie Turner, president of the Galen Institute, who helped organize the letter.
"We explain the policies are needed 'for a variety of reasons—including a gap in other coverage that lasts longer than anticipated or simply a desire to obtain and retain coverage [people] can afford, rather than become uninsured,'" she said.
The letter argues that the Departments of Labor, Health and Human Services, and the IRS under the Obama administration inappropriately limited sale of these policies to 90 days in an "effort to federally regulate a product that the statute exempts from federal regulation." They called the action a "search and destroy" mission against any policies that may compete with expensive PPACA-compliant plans.
"ObamaCare policies have been priced beyond the reach millions of Americans," said Galen Institute senior fellow Doug Badger. "There were fewer people with individual health insurance policies in December 2017 than in December 2014.  Consumers need affordable alternatives to ObamaCare."
"Short-term, limited duration coverage is one important option that can give a lifeline to some individuals and families looking for either an affordable option amidst rising insurance premiums in the individual marketplace or stop-gap in periods of coverage loss or financial distress," the group argues.
In addition, they urge CMS, in its final rule, to:
Loosen the restrictions on short-term coverage
Justify the required disclaimer about PPACA-compliance
Extend the duration of short-term coverage to up to 12 months
Permit health insurers to offer short-term policies with renewability waivers.
Signatories to CMS Comment letter submitted April 23, 2018 by the Galen Institute on behalf of the Health Policy Consensus Group
Rick Santorum, Former U.S. Senator (R-PA)
Saulius Anuzis, 60 Plus Association
Doug Badger, Galen Institute and The Heritage Foundation
Naomi Lopez Bauman, Goldwater Institute
Lanhee Chen, Hoover Institution and Stanford University
Dean Clancy, Adams Auld LLC
Ryan Ellis, Family Business Coalition
Marie Fishpaw, The Heritage Foundation
Linda Gorman, Independence Institute
Beverly Gossage, HSA Benefits Consulting and Independent Women's Forum
Ed Haislmaier, The Heritage Foundation
Rea Hederman, Jr., The Buckeye Institute
Heather R. Higgins, Independent Women's Voice
Dan Holler, Heritage Action
Phil Kerpen, American Commitment
Lindsay Boyd Killen, Mackinac Center for Public Policy
Yuval Levin, Ethics and Public Policy Center
Carrie Lukas, Independent Women's Forum
Nadine Maenza, Patriot Voices
James L. Martin, 60 Plus Association
Jenny Beth Martin, Tea Party Patriots Citizens Fund
Thomas P. Miller, American Enterprise Institute
Robert E. Moffit, The Heritage Foundation
Derek Monson, Sutherland Institute
Grover Norquist, Americans for Tax Reform
Sal Nuzzo, The James Madison Institute
Dan Perrin, HSA Coalition
Sally Pipes, Pacific Research Institute
Ramesh Ponnuru, American Enterprise Institute
Chris Pope, Manhattan Institute
Kevin Roberts, Texas Public Policy Foundation
Charlies Sauer, Market Institute
Thomas Schatz, Citizens Against Government Waste
Jameson Taylor, Mississippi Center for Public Policy
Mike Thompson, Thomas Jefferson Institute
Grace-Marie Turner, Galen Institute
Dan Weber, Association of Mature American Citizens
Steven White, M.D., Pulmonologist, Daytona Beach, FL
David Wilson, Asset Health
Affiliations listed for identification purposes only.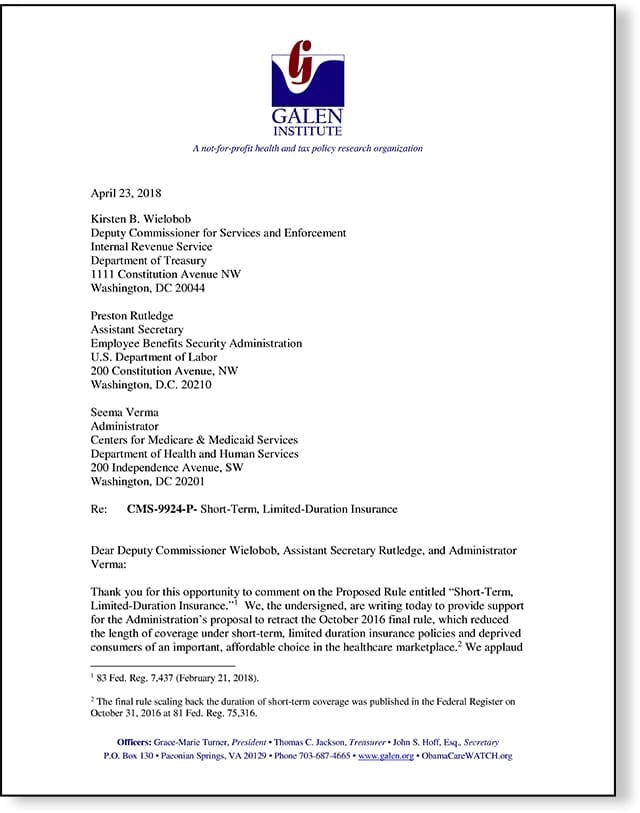 ---
Doug Badger is a senior fellow at the Galen Institute.  He previously served as a senior adviser in the U.S. Senate and White House.